Public Radio's Environmental News Magazine (follow us on Google News)
Wolves Bouncing Back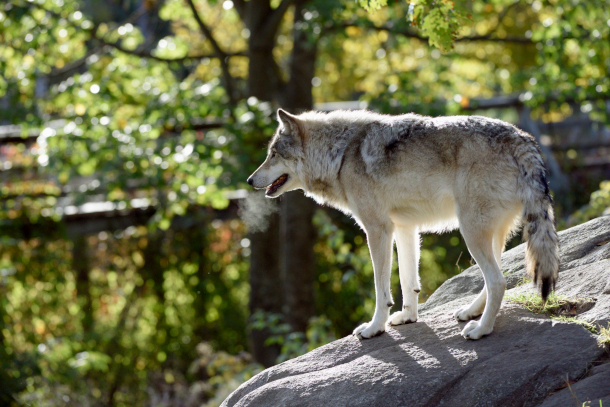 Before European colonization of North America there were more than 2,000,000 gray wolves across North America, but populations were almost completely decimated, and after protection by the Endangered Species Act they have rebounded to about 7,000 today. Above is a gray wolf in Omega Park in Quebec. (Photo: Bert de Tilly, Wikimedia Commons, Fair Use)
Hunted and trapped for centuries, wolves had all but disappeared from the contiguous US by 1960, but thanks to Endangered Species Act protections they're bouncing back. A new pack with four pups was recently discovered further south in California in places where wolves hadn't been seen for a century. Amaroq Weiss of the Center for Biological Diversity joins Host Jenni Doering to explain the vital role of this top predator in keeping ecosystems healthy.
Transcript
CURWOOD: It's Living on Earth, I'm Steve Curwood.
DOERING: And I'm Jenni Doering.
Before the arrival of colonists, North America was brimming with wildlife including as many as 2 million wolves. But the European settlers feared wolves and brought with them the practice of setting wolf bounties, and later the U.S. federal government promoted the hunting of wolves even in National Parks. By 1960, the gray wolf had all but disappeared from the contiguous U.S. But thanks to the protections of the Endangered Species Act, wolf populations are now rising. Wolves have been dispersing from Yellowstone National Park since their reintroduction there in the 1990s and biologists estimate that there are now around 7,000 wolves in the lower 48 states. And recently a wolf pack with four pups was spotted further south in California in places where they haven't been seen for a century. Amaroq Weiss is the Senior Wolf Advocate at the Center for Biological Diversity. Amaroq welcome to Living on Earth!
WEISS: Thank you so much. It's a real pleasure to be here speaking with you, Jenni.
DOERING: So there's this newly discovered pack of wolves in Sequoia National Monument in California. How did they get there?
WEISS: How they got there is one of those really fun million dollar questions with wolves. It's almost like magic. They have the ability to travel without being seen. You know, wolves are very cautious animals, they really don't want to have anything to do with us. If they see, hear or smell you before you see them you probably won't see them, they'll be gone. But it is a little bit like magic, you know, there's poof, there's no wolves, poof, there's wolves! Poof, they have puppies. So wolves are also animals that can live wherever people will tolerate them. They're what we call habitat generalists. They don't need such a specific type of habitat. Obviously, they need a prey base and they need to be able to travel to where there's water. But if you think about the fact that we didn't lose wolves, because of habitat loss, which happens with many species, we lost wolves because we killed them all. The wolf is a very adaptable animal so the fact that this family of wolves, poof showed up in Sequoia National Monument means that they may have been there a while without anybody seeing them and we don't know exactly where they came from. One thing we do know, and this is from genetics analysis that has been done on the scat that was collected in the area where the wolf had been hanging out. And for anyone who doesn't know what scat is, that's poop. It's very, very valuable scientific sample to collect information from. And the researchers were able to collect scat to show that there's at least an adult female wolf and at least four pups. And I wouldn't be surprised if they keep doing more scat collection and it may turn out that there's even more pups.
DOERING: Yeah, if you can find that scat and do a DNA analysis it's like you see this whole family tree start to develop.
WEISS: Absolutely. Yep, it tells a story.
DOERING: So why are wolves so important to ecosystems?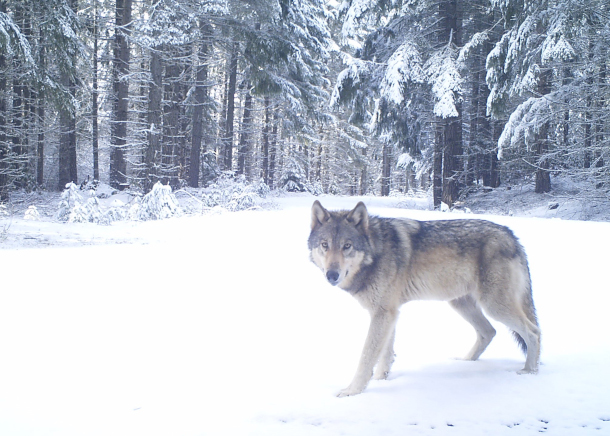 WEISS: Wolves are what scientists refer to as apex predators or top-level predators and in part, that means they don't have a predator who preys on them. Only humans do, we are their only predator. But it also means that they have an outsized effect on all of nature, on the ecosystem. And the way they have that effect is by their own biology and behavior, how they hunt, what they hunt, where they hunt. So for instance, some of the best studies to first identify this for wolves came out of Yellowstone National Park. Because with the reintroduction of wolves there, scientists were able to start studying these wolves, right from baseline, right from the wolves setting foot on the ground. And because that's such a long, revered Park it already had a tremendous historical record and documentation of what the park had looked like before wolves were wiped out there, because wolves were wiped out there as well. And so what they were able to see in Yellowstone National Park is that in the absence of wolves, first of all, the elk population exploded to the point where they were over browsing so much of the vegetation that other species also depend on. Having wolves back allowed a completely different relationship to come back into being. Wolves presence caused elk to once again become weary and stop just standing around, browsing down all of the willow and aspen for instance, which are really important plants that grow along creeks and rivers. It's important to have those plants along creeks and rivers because they provide nesting habitat for migrating neotropical birds. They provide building materials for beaver, when the beaver build their dams that creates ponds that juvenile fish and frogs need to thrive. And then of course, having the vegetation there with their roots provides stability to the banks so it doesn't erode into the river or creek and smother fish eggs. So if you ever thought, could there possibly be a connection between wolves and fish? There is because with the wolves back, the elk began to be on the move again. Their numbers were reduced somewhat, but then they came back up to a more sustainable level. And having them on the move allowed the vegetation to grow back. And scientists have actually been able to take measurements of this.
DOERING: Now some people may say that wolf management is very costly, but are there economic benefits that play out to?
WEISS: There absolutely are. Having wolves back first of all, the idea of whether or not there could be economic benefits, that was an idea that economic analysts immediately grabbed on to with the reintroduction of wolves to Yellowstone National Park. And what they discovered is that by doing surveys of people that came to the park, and finding out why they came to the park, they discovered that in the three state region, Idaho, Montana and Wyoming, the economic benefits were staggering, because people coming in expressly to see wolves were spending so much money on lodging, on restaurants, on gasoline, on fixes that they might have to do to their vehicle, that it was ending up with about a $72 million annually, you know, we're almost going on 30 years later now. And they're still seeing that same effect. There's quirky economic benefits that you might not have thought of that some brilliant researchers thought to look into. So in the Mid Western United States, also in the east coast, but in the Midwestern United States, there's been an explosion of deer, because we've wiped out all their top level predators in most of those states. With Wolves coming back, what researchers discovered was that the reduction in deer vehicle collisions in the counties that have wolves is phenomenal. To the point where on an annual basis, the state's the county combined was saving $10.9, million counties were saving about $300,000 per year. And this is not because the wolves have eaten all the deer.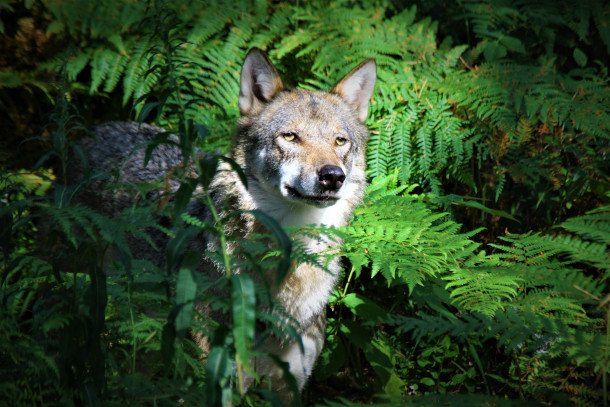 DOERING: Hmm,It's not?
WEISS: This goes back to that behavior change I talked about when I described wolf presence and elk in Yellowstone. Deer like to hang out in agricultural fields, agricultural fields are very often near roads. And in the counties that have wolves present, the deer appear to have moved out of those fields and away from the roads. So it's actually a behavioral change that has been created by the wolf presence, that then has hundreds of thousands, millions of dollars of economic savings to the state. And I'm talking about things like lost lives, lost workdays because you've been injured, medical bills, rising insurance premiums. But even more what they found in Wisconsin, was that the savings to the state was 64 times greater than the amount of money that they were spending on wolf management. That's just a great example of how complex nature is. It's such a remarkable tapestry nature is and by removing wolves, we took out some of the strongest threads that hold the tapestry together. And by bringing wolves back, we are re-weaving in the integral parts that keep that fabric of nature whole.
DOERING: So given that tapestry, these wolf packs that are returning to California make all the difference. Now as predators wolves do sometimes make a meal of livestock like sheep and cattle, to what extent has California seen those conflicts as wolves have ventured farther into the state in recent years?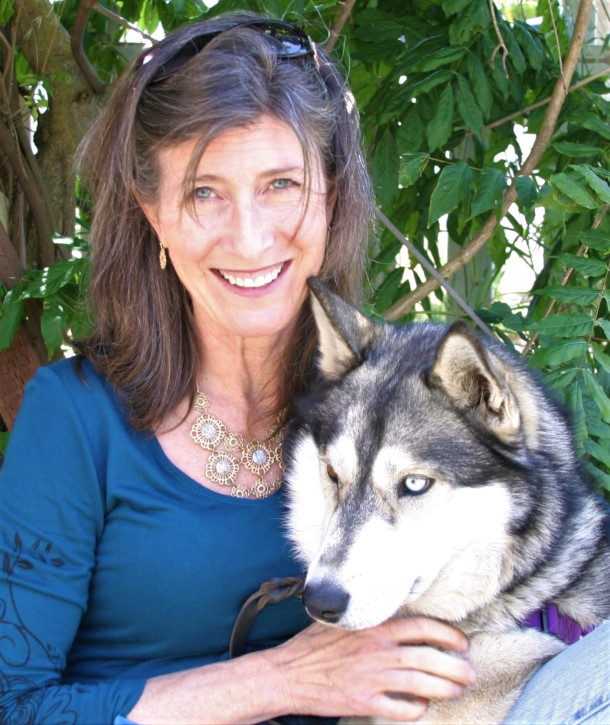 WEISS: California like every state where wolves have entered have had some share of conflicts between wolves and livestock. Wolves are opportunistic predators, they're going to take a meal where they can just like any other predator, however, they did evolve over millions of years to have this prey image in their mind, in in their body and the main prey that they have evolved to go after our wild ungulates. A couple of the really unique things about California are first of all wolves are protected in California under their state Endangered Species Act, as well as the Federal Endangered Species Act. And California also has a new program in place that was funded by the legislature that does three things: It pays compensation to ranchers for any confirmed or probable losses caused by wolves. They also can apply to be reimbursed for any funds they expend on non lethal deterrence like fencing. And then the third prong is called pay for presence. And this is where if you are ranching and have your livestock grazing in an area that is either the general territory of a wolf pack, or part of them or within the core area of that wolf packs territory, you can get paid a percentage per head of livestock, really just kind of for the stress of you having to deal with worry that there may be wolves there or concern that maybe it'll make your livestock lose weight or have lower reproductive rates. So I think California is the only state that has all three of those prongs in its program, and it's pretty exciting.
DOERING: Amaroq Weiss is the senior wolf advocate at the Center for Biological Diversity. Thank you so much Aamaroq.
WEISS: Thank you. It's been a pleasure.
Living on Earth wants to hear from you!
Living on Earth
62 Calef Highway, Suite 212
Lee, NH 03861
Telephone: 617-287-4121
E-mail: comments@loe.org
Donate to Living on Earth!
Living on Earth is an independent media program and relies entirely on contributions from listeners and institutions supporting public service. Please donate now to preserve an independent environmental voice.
NewsletterLiving on Earth offers a weekly delivery of the show's rundown to your mailbox. Sign up for our newsletter today!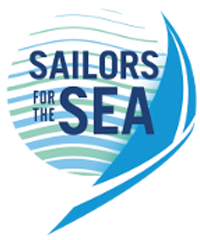 Sailors For The Sea: Be the change you want to sea.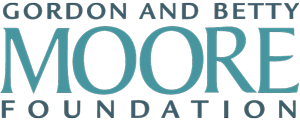 Creating positive outcomes for future generations.

Innovating to make the world a better, more sustainable place to live. Listen to the race to 9 billion

The Grantham Foundation for the Protection of the Environment: Committed to protecting and improving the health of the global environment.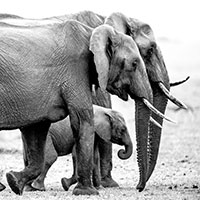 Contribute to Living on Earth and receive, as our gift to you, an archival print of one of Mark Seth Lender's extraordinary wildlife photographs. Follow the link to see Mark's current collection of photographs.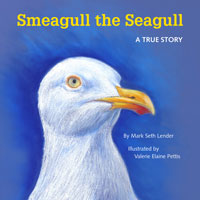 Buy a signed copy of Mark Seth Lender's book Smeagull the Seagull & support Living on Earth