Public Radio's Environmental News Magazine (follow us on Google News)
Freshening China's Fish Farms
Air Date: Week of December 9, 2016

stream/download this segment as an MP3 file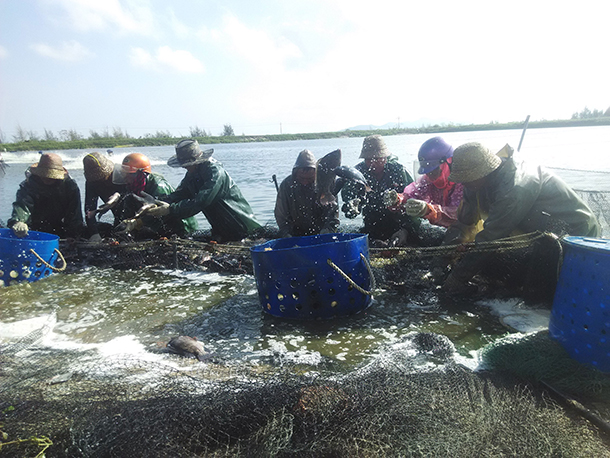 Harvesting tilapia for export on an internationally certified farm (Photo: Jocelyn Ford)
Consumer demand in both the U.S. and China for safe and healthy farmed fish is shaping aquaculture practices in the world's most populous country. And fish farmers are using traditional Chinese medicine as well as high-tech monitoring systems as they strive to keep their fish healthy and their farming practices transparent. Jocelyn Ford reports from the Hainan Province.
Transcript
CURWOOD: It's Living on Earth. I'm Steve Curwood. If you buy fish sticks or tilapia filets, chances are they came from fish grown on a farm in China. But the rising middle class in China and the hunger in America for quick and convenient fish products have led to practices that can be unhealthy for both humans and the natural environment. Aquaculture dates back thousands of years in China, but surging demand has led in some cases to pollution and the overuse of antibiotics. We sent Beijing-based reporter Jocelyn Ford to the island of Hainan, a major base of aquaculture in South China, where fish farmers are using everything from high tech to traditional medicine to clean up their industry.
But first she took a detour to Hollywood –
[DORY? DORY!]
CURWOOD: which recently has been enjoying a boom in animated fish.
[MUX from soundtrack "FINDING DORY"]
DORY: Wait, wait, no, I know where my parents are, they're in...um, uh, what's it called? The place... Soap 'n Lotion?
OTHERS: Open ocean.
DORY: Open ocean.
OTHER: Open ocean! I know where that is!
FORD: Ah, the romance of colorful fish swimming freely in the wide open ocean! In the Disney version, the heroine is Dory. She triumphs when she escapes from human captivity, and swims back to her parents. But in the real world, it is the captive fish that are heroes, the fish on fish farms. They're saving the wild fish.
HAN HAN: With such a huge population in China, if we didn't have aquaculture, if we totally relied on the wild fishery. I guess we would already running out of all these wild fish, maybe 10 or 20 years ago.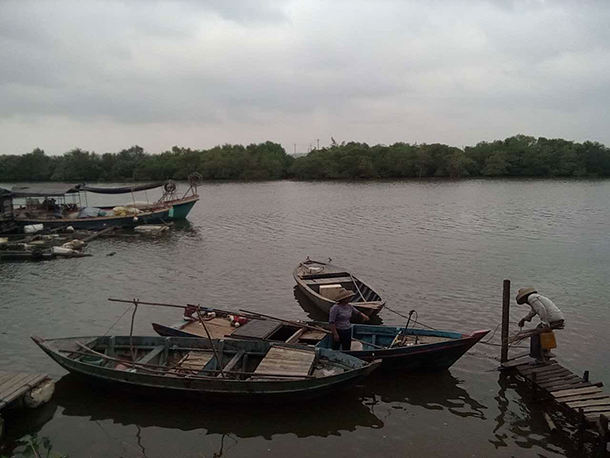 FORD: That's Han Han, the founder of the China Blue Sustainability Institute, China's first non-governmental, environmental organization focused on sustainable fishing and aquaculture. Today, aquaculture accounts for one of every two fish that land on the dinner table worldwide, and it's growing faster than other sources of animal protein. China is the global aquaculture leader, and because of its expertise here, it wants to help other countries. Fisheries Bureau Deputy Director General, Li Shumin says...
LI SHUMIN [translated with voiceover]: We have many good aquaculture technologies that we would like to share with other developing countries because we know that fishing is not going to be sustainable.
FORD: Aquaculture is expanding globally at about five percent a year, and that's a plus for some of the Earth's most pressing environmental issues. For example, compared to a pound of beef, a pound of fish has only about one-seventh of the carbon footprint. But large-scale aquaculture has created new problems. Naturally, farmed fish need to eat. And gone are the days when Chinese fish farms were all organic. Qi Genliu is a professor at Shanghai Ocean University.
QI: Traditionally we used grass to culture grass carp.
FORD: That changed with the growth of the fish feed industry and the need to feed carnivorous marine fish.
QI: Now we use feeds. It will not only more efficient, but it will also save labor.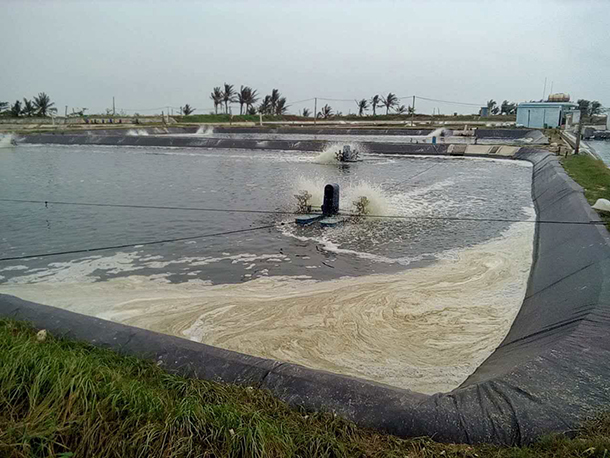 FORD: About a quarter of global wild fish catch is used for fishmeal or fish oil. So now many of the so-called "trash fish," which include anchovies and the young of other species, are being overfished. Then, there's the problem of water quality. In China, many farmers overstock their ponds, and don't properly clean the water. Fish get sick. The farmers dump in antibiotics. Again, Han Han, of the China Blue Sustainability Institute.
HAN HAN: We can produce all this seafood in such a low cost. It is because we have been industrialized to produce them in a massive scale. That can lower your new unit cost, but you didn't take into account the massive pollution.
[CAR DOOR, TAXI DISCO MUSIC]
FORD: Hop into a taxi, drive around 90 minutes from Han Han's office, and you reach Wenchang. This is the capital of fish farming on China's tropical southern island of Hainan. The roads are lined with coconut palms and artificial ponds. There are square ponds the size of several volleyball courts, and oblong ones as big as soccer fields. Fan Qingwei is a sea cucumber production manager. He agreed to give me an unauthorized tour of his former hatchery.
[FOOTSTEPS AND WATER TANK]
FORD: What's this?
FAN: Sea cucumber.
FORD: Is that one of your babies?
FAN: Yeah.
FORD: It's cute, it's slimy.
FORD: Fan Qingwei's claim to fame. Last year he bred one-and-a-half million baby sea cucumbers, a Chinese delicacy that is said to have health benefits. He takes me to the beach, a stone's throw beyond the hatchery's ponds.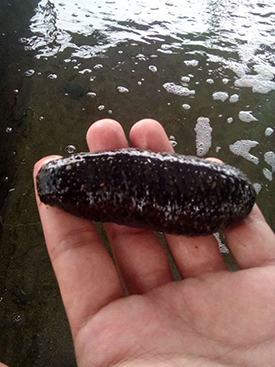 [WAVES, WALKING ON BEACH]
FAN: The water pour out the pipe, here.
FORD: Let me go take a look. Oh, there's a crab!
FORD: The hatchery is a few hundred feet from the ocean. Technically that's a violation of recent regulations. The water is discharged without treatment.
FORD: So the water's really sort of murky and brown and foamy. Not great quality, huh?
FAN: Yeah, not great quality.
FORD: Depending on who you talk to, there are hundreds or thousands of such farms. Many are small, family-owned factories that operate under the radar screen. They release water back into the sea that is contaminated with fish waste, as well as left over fish feed and medicines such as antibiotics. The concoction is like a witches brew. It worries some experts such as Cai Yan.
CAI YAN: Antibiotics kill a lot of bacteria. So they reduce the diversity of microbes in the environment.
FORD: Professor Cai Yan is an aquaculture researcher at Hainan University.
CAI YAN: You actually resulted in more super bacteria that you can't do anything with them. You know, you can't kill them. So if these bacteria, these super bacterias, go into the human system. OK, one day you get sick, you don't have any medicines to kill it. That is the big worry.
FORD: While Professor Cai Yan says there are no known cases in Hainan of humans getting sick from super bacteria, marine technician Fan Qingwei says, fish farmers are having problems. Medicines they once used when fish fell ill are no longer effective. Some farmers have seen big die-offs.
FAN [translated with voiceover]: The damaged environment has already hurt their profits.
FORD: The government has taken action. It's banned the carcinogenic antibiotics, and in Wenchang created a fund for a water treatment plant. The idea is that all the farmers could send their dirty water through the plant before it returns to the ocean. But with so many small operations, the project would be both costly and complicated. And it's unclear if it'll get off the ground.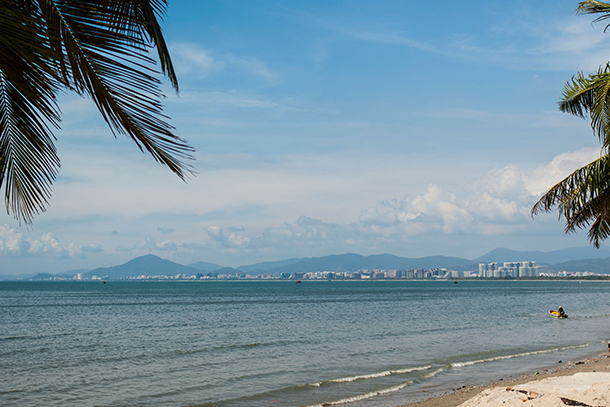 There also aren't enough inspectors to police every farm. But my visit to Fan Qingwei's hatchery suggests some government scare tactics are having an impact on reducing the use of antibiotics.
[SOUNDS VIDEO GAME]
It's lunch break. 30-year-old worker Huang Defu, in charge of shellfish at the hatchery, is busy with his cell phone.
FAN: He's playing the game in the cell phone.
FORD: Wait for him to finish his game.
[SOUNDS OF VIDEO GAME]
FORD: The conversation turns to recent, high-profile arrests of fish farmers.
FAN [translated with voiceover]: The government tests the fish. If they find you using illegal antibiotics, they might put you in jail.
FORD: So, the boss has ordered Huang Defu to use, instead, probiotics, the kind of good bacteria that's found, for example, in yogurt. Across the ocean, health-conscious consumers in America are also helping make farming practices here in China safer and more environmentally friendly.
[COMMERCIAL JINGLE "Gorton's crunchy fishsticks and filets. Absolutely no preservatives."]
FORD: China is the largest single exporter of tilapia to the U.S. 95 percent of tilapia farmed on Hainan ends up on U.S. store shelves, much of it as filets or fishsticks.
So when a couple of years ago some of China's fish shipments to the U.S. were rejected due to unsafe antibiotics, exports took a hit. Companies like Gorton's try to reassure consumers with generic pledges on their website. But regaining trust isn't as simple as singing a jingle. Han Xuefeng heads the two-year-old Hainan Tilapia Sustainability Alliance. He says for the Tilapia industry, boosting quality is a matter of life or death.
HAN [translated with voiceover]: Since prices fell in 2014, we've felt we are on the brink of a crisis.
FORD: A number of small farmers and processing plants have gone out of business. Others are teetering. But the Chinese character for "crisis," weiji, also means "opportunity."
HAN [translated with voiceover]: What we need to do now is to find out how to promote sustainable production in order to make use of the opportunity. We've already worked hard to make many people in the industry realize the importance of sustainability.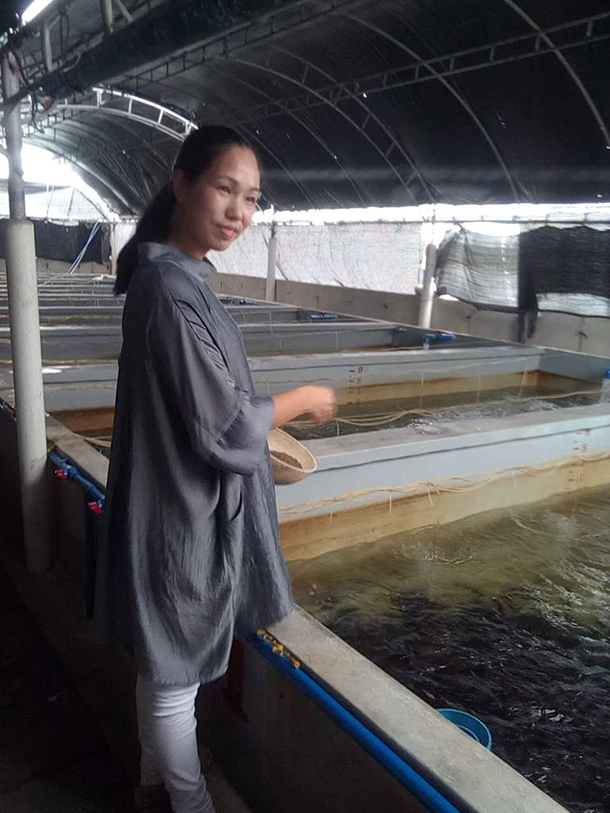 FORD: Han Xuefeng's association has found a partner in the island's most important export market. Two years ago, The Fishin' Company, America's largest tilapia importer, stepped up to the plate.
[VIDEO SOUND TRACK with man's voice "I should not be here, actually, right? But the reason I'm here, is..."]
FORD: The founder and president of The Fishin' Company, Manish Kumar, started coming to Hainan to build a coalition for a safer, more environmentally sound and sustainable tilapia industry. His company is sponsoring trainings, and offering financial incentives to a few model farms that invest in improvements. The idea is, others will follow suit if they see it makes financial sense. Many of the small fish farmers have no prior professional training. So the Fishin' Company starts with simple things, like helping farmers keep records. They track weather conditions and water temperature, which affect fish health. And the farmers keep records of the feed and the medicine they use. The plan is to help more farmers get international certification by third parties. It's a brave, bold move for the industry leader and a contrast to Manish Kumar's diffident demeanor.
KUMAR: Hey Jocelyn, I haven't probably warned you, but I'm extremely nervous, uh...
FORD: Am I scary?
KUMAR: Not at all...
FORD: As America's largest tilapia importer and the supplier for Walmart, Manish Kumar has a lot at stake.
KUMAR: I'm gambling for the future prosperity, of this industry, which has given me so much, which is my career, and I'm gambling against losing my reputation. And I'm gambling very hard for positive change.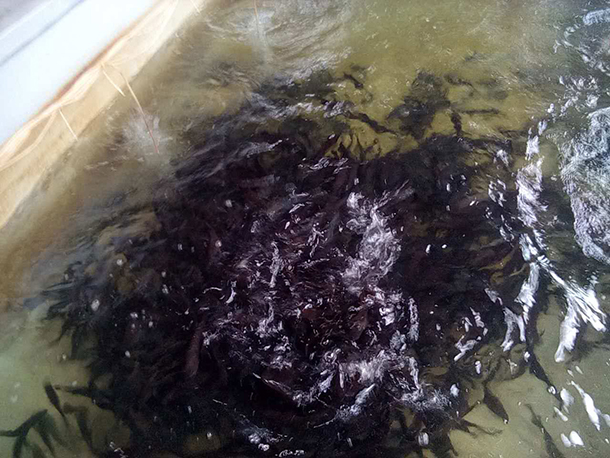 FORD: His ideas include increasing omega-3 levels in the tilapia, the fish oil that may help lower risk of heart disease, cancer and arthritis. To help reassure customers who are nervous about what their fish are eating, next year he's planning a state of the art oversight system that involves cameras, QR codes, and consumer monitoring.
KUMAR: We will now proceed to do something no one in the industry has done before. Put a camera system into the farm area. A customer buys a bag of fish. You have a QR code on the bag. Run your smartphone through our QR code on the bag, and you will have a chance to see the actual farm that raised this fish in your bag. And how it's being raised.
FORD: Customers can see the type of feed, and the plant where the feed was made, and the insomniacs can watch the fish grow 24/7. Manish Kumar says the extra cost will be negligible. As the largest supplier of tilapia, he expects to be able to take advantage of economies of scale.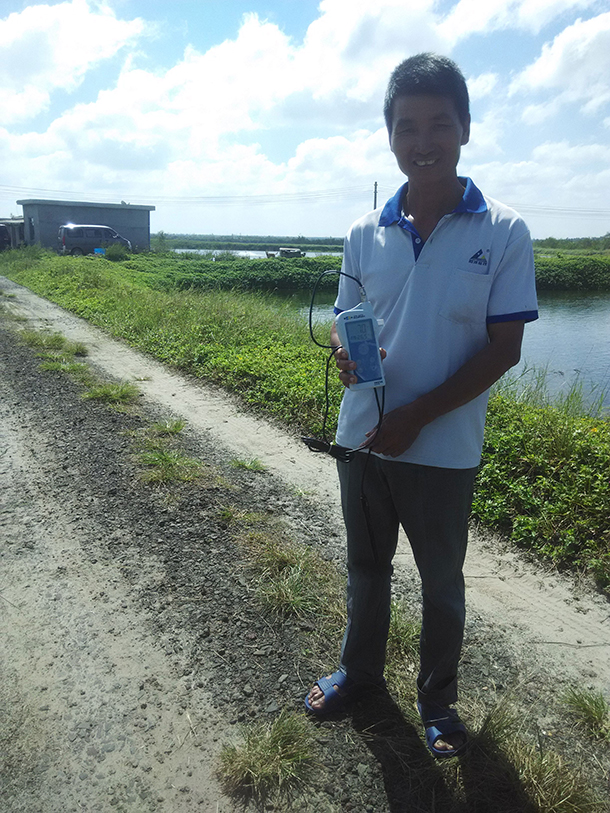 KUMAR: I see, in the early part of next year, us having the ability to, through our packaging, give customers who have any, even a shred of doubt, feel better about what they are buying from us. And, I challenge the rest of the industry to do it. And then the people who don't do it will be the ones on the hot seat.
FORD: Meantime, the picture is different for Chinese consumers. They have more reason to be concerned about food safety than Americans. As of today, Chinese consumers don't have much of an appetite for frozen tilapia. Many prefer to purchase their fish live rather than frozen, but they are increasingly concerned about what goes into their food, and Han Xuefeng of the Hainan Sustainable Tilapia Alliance sees that as an opportunity.
[SPEECH BY MOTIVATIONAL SPEAKER FOLLOWED BY APPLAUSE]
FORD: On this day Han Xuefeng and his staff attended a lecture on how to build a brand. He thinks, as an island, Hainan can profit from the argument that it's water is less polluted than water in other parts of China where Tilapia is farmed.
HAN [translated with voiceover]: We're at a turning point. Before Chinese were only concerned about how to get enough food to eat. Now they want it to taste good and be healthy and safe.
FORD: Meanwhile, some erstwhile consumers are taking matters into their own hands, by producing fish they can trust.
[SOUND OF BEATING THE SIDE OF A TANK]
Not far from the sea cucumber hatchery Zhang Meiyu is signaling to her fish that it's feeding time.
[SOUND OF BEATING THE SIDE OF A TANK]
FORD: She is improbably dressed in high heels, tight white pants and a fashionable gray tunic, and she's wearing blue eyeshadow. Zhang beats the side of the tank, and a large mob of fish swarm toward her.
FORD: What kind of fish?
ZHANG (in Chinese): Zhege shi longban.
FAN: Grouper.
FORD Just over a year ago, Zhang vacationed on Hainan, known as China's Hawaii. Then, on the spur of the moment, she decided to buy an abandoned fish hatchery. Within a month she'd relocated to the island.
ZHANG [translated with voiceover]: I had been in business. I didn't understand fish. I'd never touched one. But I discovered all the farmed fish back home was frightening. Even if you give it to me, I won't eat it.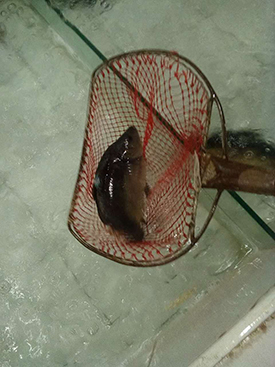 FORD: Zhang had a dream. She wanted to have safe fish and create a brand that others could have confidence in. She believed she could do so by using a new version of an ancient practice: Chinese herbal medicine, but for fish.
ZHANG [translated with voiceover]: Everyone laughed at me and said I was crazy. They don't trust Chinese herbal medicine.
FORD: Zhang Yumei is a pioneer in her neighborhood, but Chinese scientists have been researching how to farm fish using Chinese herbal medicine for many years. Dr. Guo Weiliang conducts experiments at Hainan University.
GUO [translated with voiceover]: After we notice the bad effects of antibiotics, and then we realized maybe we can do something else, for example these, Chinese herb things.
FORD: China has been using herbs for human treatment for thousands of years, and Dr. Guo is applying the know-how to fish, using western scientific techniques. The approach is preventative. The idea is to boost the immune system before the fish get sick.
[WATER TANK SOUNDS]
At the hatchery, Zhang had a steep learning curve. In the early days, she lost a lot of fish because she failed to recognize when they weren't feeling well. Today, she's proud of her results. In the last half year, she's only had four deaths.
ZHANG [translated with voiceover]: When we discover the fish are about to get sick, we take action.
FORD: Zhang says the herbal treatment costs more than cheap antibiotics, but in the long run, she believes, she'll come out ahead, and other farmers will want to copy her. Professor Guo says, however, it will be a while before cost of herbal treatments certified for fish will come down. For one, there are not enough researchers knowledgeable about fish, Chinese medicine and agriculture. And those that are, are likely to find more lucrative jobs. But the government is concerned about the quality of the fish, and the falling Tilapia exports.
[LI SHUMIN SPEAKING IN CHINESE]
FORD: Fisheries Bureau Deputy Director General, Li Shumin, says he'd like Americans to eat more tilapia. And he emphasizes that not only the government but also industry is now doing safety inspections before exporting to the US. At the end of the day, it may well be increasingly affluent and health-conscious Chinese consumers who start driving the change.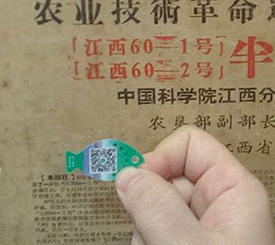 [RESTAURANT SOUNDS AND MUSIC]
FORD: Back in Beijing, at this Chairman Mao themed restaurant. An itinerant singer belts out songs for $7 a pop. My dinner party goes to a white-tiled fish tank as big as a queen-sized bed, to choose our dinner…live.
[SOUND OF FISH FLOPPING]
FORD: Our dinner has a tiny green fish-shaped tag on its fin, with a QR code.
So you just scanned it. And what does it tell us?
WOMAN: It's just like a phone number who sold this fish. If you call the number, of course the person is going to tell you the fish is authentic. They sold this fish!
FORD: It's a gimmick. Like anyone could fake this, anyway.
WOMAN: Yeah, exactly, it's not like a third party supervision, something.
FORD: But if Manish Kumar's Fishin' Company's idea catches on of giving consumers 24-7 access to witness just how that fish got to their table, you can bet Chinese consumers will want the same thing for fish they put on their plates. And once that happens, the economies of scale would take over, and might make environmentally-friendly farmed fish more affordable for all. For Living on Earth, I'm Jocelyn Ford, in Beijing.
Links

Living on Earth wants to hear from you!
P.O. Box 990007
Prudential Station
Boston, MA, USA 02199
Telephone: 1-617-287-4121
E-mail: comments@loe.org
Donate to Living on Earth!
Living on Earth is an independent media program and relies entirely on contributions from listeners and institutions supporting public service. Please donate now to preserve an independent environmental voice.
NewsletterLiving on Earth offers a weekly delivery of the show's rundown to your mailbox. Sign up for our newsletter today!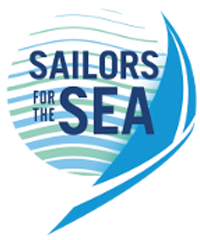 Sailors For The Sea: Be the change you want to sea.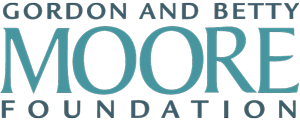 Creating positive outcomes for future generations.

Innovating to make the world a better, more sustainable place to live. Listen to the race to 9 billion

The Grantham Foundation for the Protection of the Environment: Committed to protecting and improving the health of the global environment.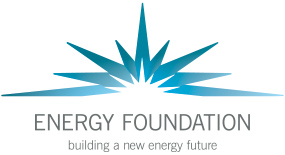 Energy Foundation: Serving the public interest by helping to build a strong, clean energy economy.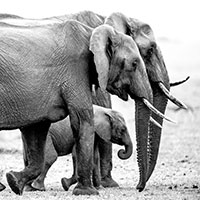 Contribute to Living on Earth and receive, as our gift to you, an archival print of one of Mark Seth Lender's extraordinary wildlife photographs. Follow the link to see Mark's current collection of photographs.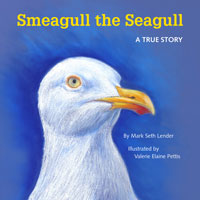 Buy a signed copy of Mark Seth Lender's book Smeagull the Seagull & support Living on Earth