Public Radio's Environmental News Magazine (follow us on Google News)
Pampered Pets
The relationship between pets and humans is changing. As more people see their pets as quasi-human, they're spending more money on their animals, as well as searching for new ways to keep them happy. Living on Earth's Susan Shepherd has our story.
Transcript
CURWOOD: It's Living on Earth, I'm Steve Curwood. With 66 million dogs living in American households, and even more cats, pets are big business, worth over 30 billion dollars a year to the U.S. economy. The money goes for food and medical care, and also for such trendy items as doggy cafés and doggy massage. The reward, of course, is unconditional love, or at least an occasional friendly lick. Research shows that having a pet can be beneficial to the health of the owner. Still, the line that used to divide how we cared for pets and how we care for ourselves is becoming increasingly blurred. Living on Earth's Susan Shepherd has our story.
[WIMPERING DOG]
SCHROFF: Why don't we give Cody some more pain meds? I mean, when you get a chance, Hilary. I know you've got your own thing going on.
SHEPHERD: It's a cold, snowy night and Vescone Animal Hospital in Waltham, Massachusetts, is bustling with activity.
[TYPING ON COMPUTER]
SCHROFF: He has one on his back, he has one right by his anus, and he has two on his right hind leg and he's very painful.
SHEPHERD: Dr. Amy Schroff runs this clinic like a firm and practical loving mother, taking care of clients, employees, and animals alike. Now she's examining Skippy, a terrier attacked earlier this evening by an unknown animal in the back yard.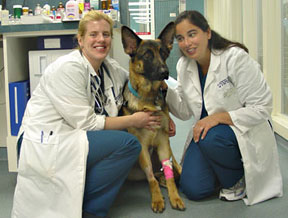 Dr. Amy Schroff and Dr. Heather Chalfant with a patient at the hospital.
SCHROFF: Those are some pretty nasty wounds back there. Yeah, I think some nice narcotics have your name on them somewhere.
SHEPHERD: It's hard to tell who needs the narcotics more, the pup or his owner, a middle-aged woman who is clearly distraught. But just wait till she gets the bill. Though your average Skippy can cost his owner somewhere between 200 and 800 dollars a year, many of the animals in the intensive care unit of this hospital tonight are ringing up larger costs than that.
[DOG CRYING]
SHEPHERD: Just down the hall an English Setter named Missy cries and pants as she lies in a concrete enclosure on a blanket. Her neck is wrapped with pink bandages, and her shaved body is bound by a metal brace. She has a feeding tube inserted in her esophagus through a hole in her throat, and an IV catheter. Dr. Schroff and Dr. Heather Chalfant talk about her condition
CHALFANT: Yes, she was hit by a car…
SCHROFF: …flail chest …
CHALFANT: She's had surgery, too.
SCHROFF: Oh, she did?
CHALFANT: Yep.
SHEPHERD: Out of the eight or ten dogs here tonight, at least two of them will run up medical bills of close to 8,000 dollars. The highest bill in this hospital's history was 22,000 dollars for a very sick dog that survived for another year. It's all part of the 11 billion dollars a year Americans spend on pet health care, up from 800 million in 1980. Part of that increase is because of animal hospitals like these.
Dr. Jack Walther is president of the American Veterinary Medical Association. In the past few years, he's watched the veterinarian profession grow much more technologically advanced.
WALTHER: I've been in small animal practice right on 40 years, so I came out of an era where we had no specialists. That's all changed.
SHEPHERD: Dr. Walther says the pet-owning public has also changed.
WALTHER: As we see the American public growing older, their pets have become a much bigger part of their later life. And as a result, they want the best care possible.
Two animal care technicians care for a dog at Vescone Animal Hospital in Waltham, MA.

SHEPHERD: Clearly, not everyone can afford to spend thousands or even hundreds of dollars on a pet. And now that this new and improved care is so readily available, how do people make the decision, often in the spur of the moment, to begin a treatment that could end up putting them in debt? Dr. Schroff says she tries to make pet owners more comfortable with their decision, no matter what it is.

SCHROFF: We don't place judgement on people. The fact that someone will bring their animal in to see us obviously shows that these people really love their pet. They really want to try and do the best they can. And euthanasia is sometimes the best option.

SHEPHERD: But Dr. Schroff is equally adamant that she was not put on earth to be, as she puts it, a killing machine, and won't euthanize animals for their owner's convenience. But if the question was once, 'What amount is too much to spend on a pet to save its life?' Now the question is, 'How much is too little?' Many vets don't know themselves what they feel about when to euthanize, much less how to counsel their patients. The AVMA's doctor Walther says that the vet's role has changed.

WALTHER: I really became much more of a family advisor, if you will. Pet owners depend on my advice far more than they did when I first started practice.

SHEPHERD: If people are now looking at their pets as part of the family, as kind of quasi children, how do you ever make the decision not to spend $22,000 to save a pet's life? A person would hardly consider cost when deciding on a child's lifesaving medical treatment. But even Dr. Schroff is uneasy about the implications of spending so much on pets.

SCHROFF: I think it's an astonishing contrast. My father is from India, and I've traveled to other parts of the world where I have relatives, cousins who are medical doctors, that don't even have access to the medical equipment that we have.

SHEPHERD: And yet, with pet health insurance available, more specialists entering the field and more households owning pets, we're likely to make animal health care an even larger part of the economic pie. What's causing this trend? And is it a good thing?

KATZ: People are turning to dogs more and more for emotional support.

SHEPHERD: That's author John Katz, who's written several books about dogs. His latest, The New Work of Dogs: Tending to Life, Love and Family, follows 12 people for a year and explores their relationship with their dogs. Katz thinks we should be wary of the deep emotional intensity of some of these relationships.

KATZ: They see dogs as members of their families, they see dogs as childlike, they attribute human emotions to them, they anthropomorphasize them, they see them as spiritual. And the intensity, fueled by I think the fragmented society – there's more divorce, more people living alone, work is insecure – they are turning more and more to dogs for companionship. And I think that's a beautiful thing in many ways, and it's also a troubling thing in many ways.

SHEPHERD: Although Katz is unsettled by this over-emotionalization of pets, which he says is causing us to see them as human, it's not because he doesn't love animals.

[BRAYING DONKEY]

KATZ: Yes, I love you too, girlie. You want another cookie?

SHEPHERD: It's a brilliantly sunny winter day at his farmhouse on a hill overlooking pasture and weathered barns in upstate New York, and Katz is in the process of feeding two donkeys, 15 sheep and two dogs.

[CRUNCHING, EATING SOUNDS]

KATZ: Come here Fanny, come on girl.

SHEPHERD: Caring for so many animals is no mean feat, considering the below zero thermometer readings on so many days this winter. He recently suffered frostbite on several fingers and toes trying to save a dying Carol.

KATZ: Donkeys are among the world's, I think, sweetest and least appreciated creatures. You haven't really lived until you've given a donkey a rectal thermometer at four o'clock in the morning at minus 30 degrees. It's really changed my life (laughs). Rose, come by.

[CLANGING COW BELLS]

SHEPHERD: But his real loves are his two border collies, Rose and Orson. Katz directs eight-month-old Rosey as she runs through the fresh blanket of snow to keep the sheep away from the donkey chow.

[CLANGING BELLS]

KATZ: Rose is indispensable. I would not last an hour here without her.

SHEPHERD: Rose is small for her breed, and still a pup, but she moves the heavy and lumbering sheep around as if they were nimble mice.

SHEPHERD: Will she make our lunch for us?

KATZ: She's really so great.

SHEPHERD: Rose is so great that it's hard to understand how Katz could resist thinking about her as having human qualities. And Katz admits he falls into that trap himself. When he first got his male border collie, Orson, he had to put a note on his computer reminding him 'He's not human.'

KATZ: There's a trainer named Carolyn Wilkie, who I write about in the book quite a bit, and I said to her one day, 'If anything happened to me you'd have to shoot this dog because he could never live with anyone else.' And she got in my face and she said, 'Listen pal, if anything happened to you, I'd buy a pound of beef liver and in 48 hours this dog would forget that you ever walked the earth. And don't you forget it.'

SHEPHERD: It seems that as loneliness and alienation increase in our society, so does the importance of dogs in our lives. And there may be some evidence to support that notion. Katz talks about an article in the Journal of Evolution and Behavior, which concludes that:

KATZ: Dogs are the world's most effective social parasites. That is, they have brilliantly injected themselves into the social system of another species, which very few species ever do. And they do this by tricking us, essentially, by showing a narrow range of humanlike emotions – affection, hostility, anxiety, neediness, play. And they trick us into thinking they have the entire range of human emotions, that they're human. And so we therefore attach to them as if they were people.

SHEPHERD: Dogs may in fact be the animal kingdom's master manipulators, judging by the behavior of those who love them. Take a look at Bark Magazine, published out of San Francisco. Seventy five thousand people subscribe to this glossy monthly. And some recent articles include teaching your dog how to read, tips on how to include your dog in your wedding, and an article that starts with the question 'Is your canine companion a fur-ball of stress?' and recommends dog yoga as a way to calm your dog down. 'Animals know how to be in the moment and how to completely relax,' says the dog yoga instructor interviewed in the article.

SCHROFF: I don't know that I really have a professional opinion about dog yoga [LAUGHTER]. I don't!

SHEPHERD: Dr. Amy Schroff may not, but John Katz does. And he blames it partly on his own generation.

KATZ: You know, the boomers created the myth of the gifted and talented child, and now they're creating the idea of the gifted and talented dog. I had one person e-mail me and said, you know, Mondays we do agility, Tuesdays we do obedience, Wednesdays we go herding - Thursdays are open, what can we do? There is a widening chasm between what dogs need and what we want to give them.

SHEPHERD: Is this helping dogs? It appears not, at least in terms of dog behavior. I asked Dr. Walther of the AVMA whether we can say that dogs are, well, worse than they used to be.

WALTHER: Absolutely. Yeah, we can (laughs). I think every one of them is in my practice.

SHEPHERD: Katz agrees. He says fewer than three percent of dog owners train their dogs at all, which could be why over 400,000 people were bitten seriously enough to require hospitalization last year. The dog rescue culture may be feeding into this – dogs with behavior problems that before would have been put to sleep are now being saved and put up for adoption

KATZ: Thirty or 40 years ago you didn't rescue a dog, you just adopted a dog at the shelter. Now you rescue a dog - and rescue is a very emotionally charged term, it has all kinds of intense connotations about it. And, you know, I'm always getting chased by people who tell me that their dogs were abused. 'I'm sorry my dog bit you on the butt, but he was abused.' 'I'm sorry my dog jumped on you but he was abused, and therefore I can't train him.'

SHEPHERD: And because we are beginning to see dogs as a new kind of in-between human and pet species, that's being played out in the legal realm, as well. In a San Diego divorce case last year, a couple spent over $150,000 on a custody fight over their dog, Gigi. The judge allowed a "day in the life of Gigi" video to be considered as evidence, before deciding to grant custody to the wife (her ex got visitation).

But other perhaps more far-reaching issues are coming to the legal fore that involve the very essence of what it means to be an animal. Several state legislatures are rewriting animal protection laws, so that pet owners have the right to pain and suffering damages over and above the worth of the pet, as well as punitive damages for acts of abuse or neglect. This could mean that veterinarians will someday be facing the same kinds of staggering lawsuits that doctors now must contend with, and it's got veterinarians worried. It also means the rest of us could be facing larger legal bills, and larger court-mandated payments to pet owners, if we're unlucky enough to harm someone else's animal.

In addition, several cities have passed ordinances that say animals' owners should be called "companions," which could possibly change the rights of people who own pets. There are legal variations of how this would look. Cass Sunstein is a constitutional scholar at the University of Chicago Law school who has written about this topic.

SUNSTEIN: The most radical version is that there shouldn't be pets at all and that, in the long run, animals should be wild and free. They would abolish the institution of pet ownership. A less radical idea is that once animals aren't property any more they have the kind of status of very old people or very young people, who are not owned but who are cared for. So instead of thinking of animals as objects, the less radical version says we should think of animals as more akin to children - people who we have duties toward, and people who have rights of their own.

SHEPHERD: But are we sure we want to be equating animals with children in the eyes of the law? John Katz thinks not.

KATZ: I am responsible for my dogs. I am responsible for training them, for caring for them, and for showing them how to live in the world. The idea that a dog has codified legal rights? It's a tricky issue for me. There's a group now that's trying to pass a legal code for the adoption of dogs that would give dogs the right to switch homes if they're unhappy. I don't even want to think about how that's going to work.

SHEPHERD: Several weeks after my trip to the animal ER I went to see Missy, recovering at home from her accident.

SHEPHERD: Hello, how are you?

GERSTMEYER: I'm fine, thank you.

SHEPHERD: Pam Gerstmeyer says that plenty of people were surprised that she spent so much money on Missy. But then stories of others paying for heroic treatment for their pets began to trickle in. She says that even though Missy's treatment didn't put her family into debt, they still had to have the conversation.

GERSTMEYER: My husband and I talked it over. I had badly broken my leg at one time and he said, 'Well, we didn't put you to sleep, did we? No, we did not!' [LAUGHS]. And she's a member of our family and we're going to do whatever we can. We are a very fortunate country, a very indulged bunch of people. But I'm not going to make excuses for what we did.

SHEPHERD: That said, Gerstmeyer has three grown daughters and says she would never equate her dog with her children.

GERSTMEYER: I think you have to remember that a dog is a dog. And maybe with this accident things have changed that way, with our relationship with her. But still she is just a dog. Just a dog that we spent 8,000 dollars on, you know. I mean, hello!

SHEPHERD: As we're talking, Missy is lying complacently nearby – perhaps listening to the drone of our voices, smelling all of the pungent house scents, and dreaming of chasing squirrels. It's still hard for her to walk, or move at all, and she's not eating much. But is she glad to be alive? Does she even understand that concept at all? Many dogs owners would say yes.

GERSTMEYER: I think she probably looks and says, 'Oh my goodness, what did I do to deserve this?' Now I am not going to – I think this is where people go off the deep end – take her to a dog psychologist. She's going to have to work out her issues by herself. [LAUGHS] She's going to have to just deal, and cope, and realize, you know, we are having a good life here!

SHEPHERD: For Living on Earth, I'm Susan Shepherd.

[MUSIC: Lauren Canyon "Dances with Dogs" UGLY DOGS NEED MORE LOVE (Quicksilver Records - 2002)]

Living on Earth wants to hear from you!

Living on Earth
62 Calef Highway, Suite 212
Lee, NH 03861
Telephone: 617-287-4121
E-mail: comments@loe.org

Donate to Living on Earth!
Living on Earth is an independent media program and relies entirely on contributions from listeners and institutions supporting public service. Please donate now to preserve an independent environmental voice.

NewsletterLiving on Earth offers a weekly delivery of the show's rundown to your mailbox. Sign up for our newsletter today!

Sailors For The Sea: Be the change you want to sea.

Creating positive outcomes for future generations.

Innovating to make the world a better, more sustainable place to live. Listen to the race to 9 billion

The Grantham Foundation for the Protection of the Environment: Committed to protecting and improving the health of the global environment.

Contribute to Living on Earth and receive, as our gift to you, an archival print of one of Mark Seth Lender's extraordinary wildlife photographs. Follow the link to see Mark's current collection of photographs.

Buy a signed copy of Mark Seth Lender's book Smeagull the Seagull & support Living on Earth