Public Radio's Environmental News Magazine (follow us on Google News)
Fighting Fire with Prescribed Fire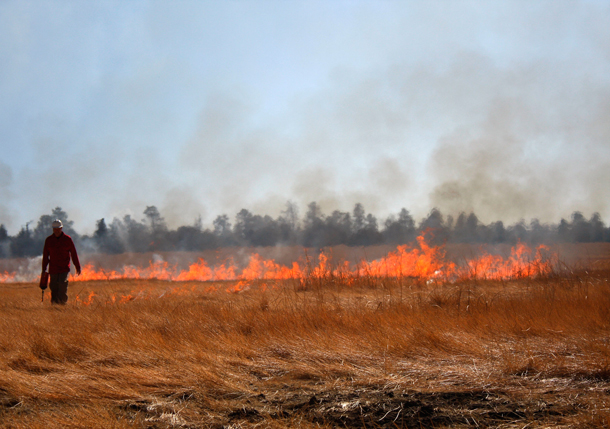 A firefighter uses a drip torch as part of a prescribed burn in the Coconino National Forest, Arizona. (Photo: Ian Horvath / Coconino National Forest, Flickr CC BY-SA 2.0)
A century of fire suppression has turned much of the West into a tinderbox. Prescribed fire could help bring nature back in balance, but it's currently far more common in the Southeast than in the West, where it's sorely needed, says Pyrogeographer Crystal Kolden of the University of Idaho. She joins Host Steve Curwood to talk about the opportunities to get communities involved in prescribed burns, and the challenges of building fire-resilient communities.
Transcript
[THEME]
BASCOMB: From PRI and the Jennifer and Ted Stanley Studios at the University of Massachusetts Boston, this is Living on Earth. I'm Bobby Bascomb.
CURWOOD: And I'm Steve Curwood. The huge wildfires in California and Baja California have their roots in little things, an abundance of underbrush where a single spark can ignite a whole forest. Fires can be beneficial for forests, as long as they happen often enough to clear tinder that can feed a firestorm, and Nature has managed forests forever that way with lightning. For people, one proven way of preventing wildfires is the use of prescribed fire, not unlike what native Americans historically did to manage the landscape and attract game. But prescribed burns are barely used at all in California, where hundreds of thousands of people have had to evacuate their homes in recent weeks as perfect conditions fuel the Kincade and other fires. Meanwhile in the Southeastern United States prescribed fire is relatively common. In fact, 70% of all prescribed burns in the US take place in the Southeast each year, compared to just over 2% in California, according to a paper published in the journal Fire in May of 2019. To find out why, we've got lead author Crystal Kolden on the line. She's a Pyrogeographer at the University of Idaho. Welcome!
KOLDEN: Thanks so much for having me, Steve.
CURWOOD: Tell us, what exactly burns in a prescribed fire, and what doesn't?
KOLDEN: Prescribed fires are usually used to reduce a lot of the understory vegetation in a forested system, things like the grasses and the shrubs and some of the low plants and even some of the seedlings and saplings, those little baby trees that are growing in the understory. And so they reduce a lot of that, they combust it. They also combust a lot of the dead woody material on the forest floor, old dead trees that have fallen down or just limbs that have fallen off trees, all those things that could burn in a wildfire. If we're doing prescribed fires to reduce wildfire risk, that little stuff seems really harmless but that's what carries a fire and allows it to really start building energy and get up into the crowns of the trees. And where we're doing prescribed fire for forest health, we're actually trying to remove a lot of those competitors and allow the big trees to soak up more water and more nutrients and grow even bigger and healthier.
CURWOOD: And of course, the bigger the tree is, the more carbon it takes out of the atmosphere.
KOLDEN: That's correct. And, and that is another reason that people are starting to use prescribed fire, not necessarily as the primary use, but where there was historically a lot of fire, reintroducing fire through prescribed fire into these systems actually helps those big trees grow bigger like they used to be, and it helps sequester a lot more carbon.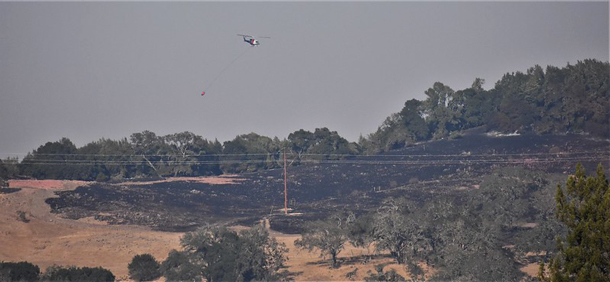 CURWOOD: And I gather that, particularly in the West where we're seeing such devastating wildfires, for the longest time the ethos of Smokey the Bear, that is prevent a forest fire, kept all this little stuff from getting burned naturally.
KOLDEN: That's very true. And the suppression mantra in the US and particularly in the western US really gained lot of momentum during the 40s. And there was sort of a bunch of things that happened all at the same time. One, there were some really large fires in the western US that took out a lot of valuable timber because of course, there weren't that many people living in the West in the earlier part of the 20th century. But that loss of these valuable timber forests really promoted this idea that we need to suppress all these fires so that we can save this valuable timber, so that we don't burn into these communities that are starting to grow in the West. And that's where we get Bambi from; Bambi was released in 1942, and there's very much this anti-fire message in Bambi. Smokey Bear comes from that same era. And if you look at a lot of the historical materials around World War II, there was also this link drawn between the Axes, particularly the Germans and the Japanese, right, and forest fires, because there was this message sent out by the US government that if you set forest fires, you're actually helping the enemy. So there was this strong message that was built around trying to suppress fires during this era, and that was very American at the time, to suppress those fires.
CURWOOD: Oh my goodness. So, unpatriotic; you know, Bambi, a bare-chested bear; and helping the war effort. Oh, my.
KOLDEN: Yes. [LAUGHS]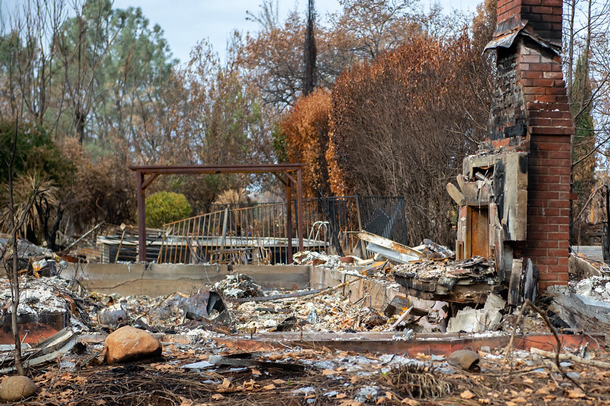 CURWOOD: So why are prescribed burns so much more common in the southeast part of the US than the West, where it seems like they are really needed?
KOLDEN: So the southeastern US has a very different history and land use legacy than the western US does, as well as a very different climate. And the southeastern US has been using a lot of prescribed fire for almost 100 years. They really started to build prescribed fire programs in the Southeast in the 20s and 30s. And the reason for that was actually kind of an interesting one. They were seeing that a lot of the game species that hunters wanted to hunt during that time, predominantly upland bird species, they were seeing those disappear. And there were several biologists and wildlife ecologists that thought to themselves, well, I wonder if fire could actually help restore the habitats of these critters. And in fact, it did. And so there was this evolution away from the suppression mindset, and towards this idea that fire can actually be really beneficial. Beneficial for the game species that they like to hunt, but also beneficial for the forests that form an economic component in the Southeast, these long leaf pine forests. And today, the Southeast burns about 5 million acres a year. It's just a huge burning program, and they do just over 70% of prescribed fire in the US.
CURWOOD: Now, earlier this year, we had a segment in our broadcast about neighborhood burn squad communities in California, that are taking prescribed fire into their own hands and actually doing it themselves, with the advice of some experts. How safe is this, do you think?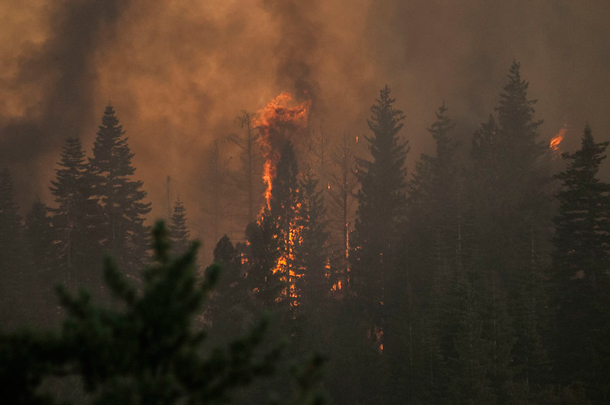 KOLDEN: I think that the risk factor is going to really depend on how this gets implemented. And these sort of neighborhood burn squads, these are becoming more prevalent, particularly in places like California, in the aftermath of a state bill that was passed last year called state Bill 1260, which is meant specifically to try and increase the amount of prescribed fire in the state. And that bill also charges the state fire agency, called Cal Fire, with developing an educational curriculum so they actually start to train citizens on how to do prescribed fire a little bit more safely. And it also sets up a permitting program. So when we talk about neighborhood burn squads, people are not going out and just doing this willy-nilly, with no permission, right. They are still getting burn permits. And so in California now, they have to get this training on prescribed fire before they can get the permit to go out and do this. And that is meant to try and reduce some of the risk with this. Is there still going to be risk? Absolutely. But one of the things that I am really interested in studying and watching how this develops is that in places like California, there's an enormous amount of private land in the state. It's about 45% private land. And what that means is that federal fire managers, the sort of trained professionals, right, they can only do prescribed fire on federal lands. And so there's a lot of land that could benefit from prescribed fire, but won't get it from the federal fire professionals, because it's not their jurisdiction, and because they simply don't have enough people and enough resources to do it.
CURWOOD: Crystal, let's talk about end game in the face of a wildfire, that is, the buildings that get caught up by this. Some of these survive and some don't. To what extent is it possible to build homes that are relatively fireproof?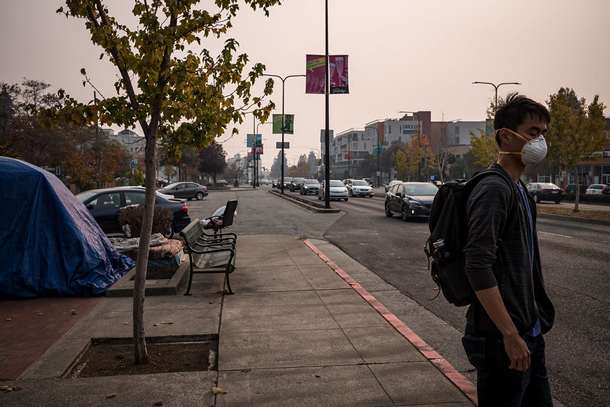 KOLDEN: So trying to build houses that are relatively fireproof has been a challenge for a long time. And what we see in communities that are impacted by fires, for example, the fires happening right now in California, is that these houses were built during an era when there was not as much fire, so they were not built to be less flammable. What they were built to be is not prone to earthquakes. Because as we know, California is also a state that has been very much shaped by earthquakes and the giant fault lines that run through the state. So if you drive through many parts of California where there's a lot of wildfire, you'll see that the houses are wooden and not brick, right? And that's because brick houses don't survive earthquakes very well. So one of the challenges that we face in trying to build houses that are resistant to fire is that they also have to be following the earthquake codes. But it's an expensive process to convert all of the existing housing stock to less flammable materials. So this has been a real challenge to try and actually convince people to build houses that are more fire resistant, with metal roofs or even asphalt shingle roofs, with exteriors that are not made out of wood siding, but instead are made out of things like stucco and fiber cement siding, and to not have the types of openings for embers that facilitate houses burning down.
CURWOOD: Pyrogeographer Crystal Kolden is with the University of Idaho in Moscow. Thanks so much for taking the time with us today.
KOLDEN: Thank you so much for having me, Steve. I appreciate it.
Living on Earth wants to hear from you!
Living on Earth
62 Calef Highway, Suite 212
Lee, NH 03861
Telephone: 617-287-4121
E-mail: comments@loe.org
Donate to Living on Earth!
Living on Earth is an independent media program and relies entirely on contributions from listeners and institutions supporting public service. Please donate now to preserve an independent environmental voice.
NewsletterLiving on Earth offers a weekly delivery of the show's rundown to your mailbox. Sign up for our newsletter today!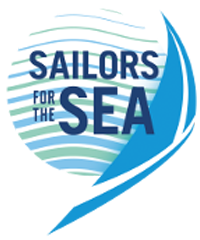 Sailors For The Sea: Be the change you want to sea.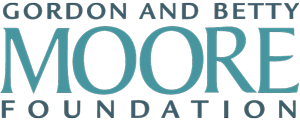 Creating positive outcomes for future generations.

Innovating to make the world a better, more sustainable place to live. Listen to the race to 9 billion

The Grantham Foundation for the Protection of the Environment: Committed to protecting and improving the health of the global environment.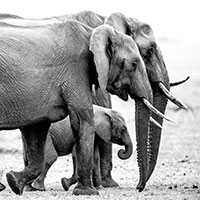 Contribute to Living on Earth and receive, as our gift to you, an archival print of one of Mark Seth Lender's extraordinary wildlife photographs. Follow the link to see Mark's current collection of photographs.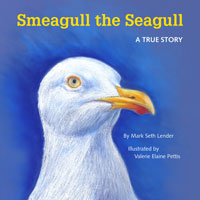 Buy a signed copy of Mark Seth Lender's book Smeagull the Seagull & support Living on Earth