Public Radio's Environmental News Magazine (follow us on Google News)
Poetry in the Time of Climate Troubles
Air Date: Week of April 16, 2021

stream/download this segment as an MP3 file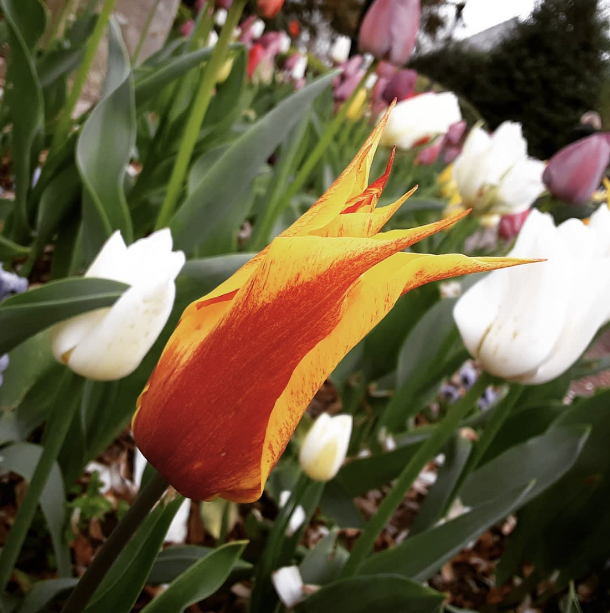 Poet Catherine Pierce confronts the climate emergency head-on in her work, and even finds beauty within it. (Photo: Catherine Pierce)
In her poems, Catherine Pierce grapples with unfolding climate disaster and other 21st century perils, and the ways they reframe parenting. She joins Host Steve Curwood to share poems from her books Danger Days and The Tornado Is the World, and to reflect on finding beauty and calls to action during the Anthropocene.
Transcript
BASCOMB: It's Living on Earth I'm Bobby Bascomb
CURWOOD: And I'm Steve Curwood
We're celebrating Poetry Month this year with Catherine Pierce. This award-winning author of poetry collections including Famous Last Words and Danger Days teaches creative writing at Mississippi State University. Catherine Pierce joins me now from Rehoboth, Delaware. Welcome to Living on Earth!
PIERCE: Thank you so much for having me on.
CURWOOD: Our pleasure. So Catherine, environmental disaster seems to be, well, can I call it a muse of sorts for you? Tell me, tell me why is that?
PIERCE: [LAUGHS] That's a great question, a muse! Yeah, I guess, I mean, I guess we could call it that. It's a terrifying muse, but I guess we could call it that. I've become increasingly impacted, just in my day to day life, by extreme weather, by these things that are changing in the way that I think a lot of us have. I live in Mississippi, I'm in Delaware right now, but I teach at Mississippi State, and I've been living there for 14 years. And we've had, you know, more and more tornadoes, tornadic weather, strong storm systems coming up through the Gulf. And people's lives have just been completely disrupted and sometimes destroyed by these things. And so that's part of it, is having had some very real experiences, very close calls with tornadoes, and knowing a lot of people who have had homes destroyed, or who have lost loved ones because of these things. And I also became a mother while I was living in Mississippi, I have two kids, and we try to get outside a lot, we try to experience the outside world as much as we can. And it's a thing that brings us a lot of joy. But there's something about trying to impart that joy to my children; it's always kind of tinged with this sadness, or this feeling of guilt as I think about how this world as we know it is shifting every single day. And what's going to be left by the time they're my age?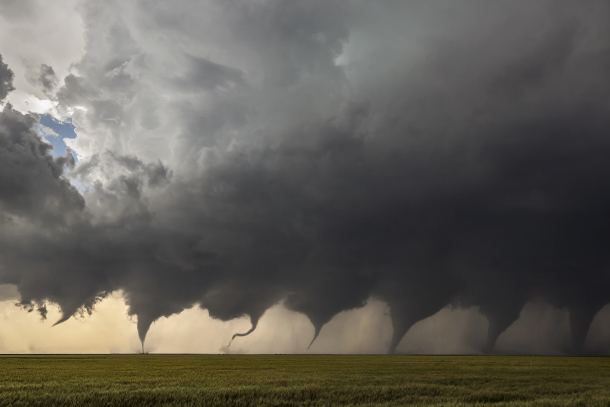 CURWOOD: Now, if you grew up near the Chesapeake, then you must have been well aware of nature as a child, as a young person coming up, what's changed about your perception of the environment now, as an adult in these times of climate disruption?
PIERCE: I mean, one thing that I've noticed, is the fact that small things are different. Things like the fact that when I was growing up, we had snow pretty regularly, you know, up in Wilmington, Delaware, where I grew up. And now there's less of that. I mean, we're getting extreme snow, we're getting crisis snow. But we're not getting as much of that sort of reliable, pleasant, you know, several inches, close-the-school-for-a-day kind of snow. And so you know, you see these little changes. Or I see things like, I teach at Mississippi State, and we have this beautiful campus with all these beautiful blooming trees. And a couple of years ago, I remember walking outside and seeing that one of our trees near the English building was blooming, but it was the fall, it was a tree that should be blooming in the spring. And the tree was confused, something about the weather had, had confused it. So and you know, you see these things occasionally. And then thinking about just extreme weather popping up throughout the country, the tornadoes that are getting increasingly bad in the Deep South, and also in the Midwest; the extreme weather that we saw in Texas not so long ago. All these things, all of this extreme weather that's coming through, all as a result of disruption and of climate crisis. And these are things that, you know, again, I'm observing from the perspective of just a person, you know, living my life. And I'm not a meteorologist, I'm not a scientist, but I'm paying attention. And I'm aware of the way the sun feels on my face. And I'm aware of the way the wind feels when I step outside. And they're subtle shifts, but they're very real and if you look at the data, all the stats are there. But I think we can see it in very day to day ways as well.
CURWOOD: You have a poem that I'd like to ask you to read that really seems to capture, well, kind of the element of, of exhaustion of dealing with constant climate disruption now. It's called, If/When.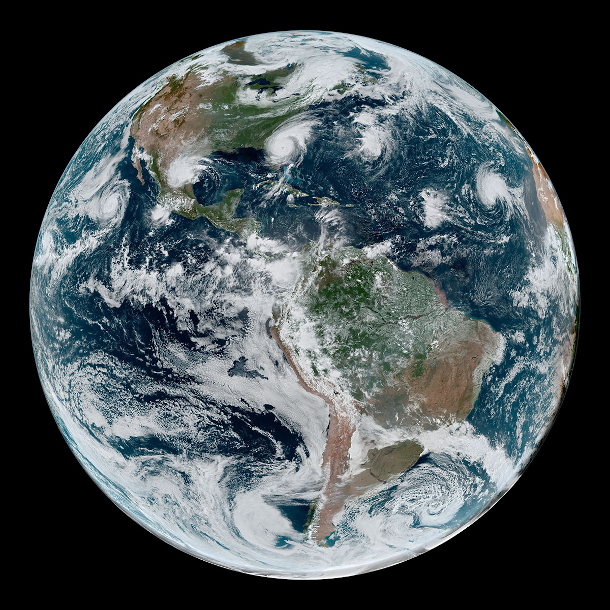 PIERCE: Yeah, this poem was first published in the Southern Review.
If/When.
The poem I planned to write
was about last week's hurricane,
about how I live in Mississippi,
not that far from the storm's rages,
and how even still we felt
nothing here, nothing at all.
That was going to be the ending,
because I wanted to make a point
about how easy it is to ignore
disaster when it's not churning
directly over your town, and I was hoping
a reader might then extrapolate
a larger point about disturbance
and proximity, like how politicians
are always saying they used to oppose X
until some terrible Y happened
to their daughters, and it seems
to me we're requiring an awful lot
from daughters these days. Sons, too.
This week a message from my kids'
school district included the phrase if/when
a lockdown is ever necessary. The reason
I'm writing this poem instead
of the one I'd planned is that I keep
thinking about that email and also
now the hurricane was a week ago
and there's a new disturbance
forming near the Bahamas. And
last night Sioux Falls was tornado-
shredded and in Sterling, Colorado,
egg-size hail pummeled windshields,
and I guess what I'm saying is, why bother
with one poem about one hurricane,
one email? There will be more,
and there will be more,
and there will be more until
there is nothing left. The thing
about the poem I was going to write
is that it would have been a lie.
That nonsense about how we don't
feel it here. We feel it everywhere,
don't we? Dear daughter, dear son,
dear someone's something, we're well
past the if and into the when.
Talk about proximity—
some days I wear the world
like a skin. I am tired of waiting
for extrapolation. Let us all
be disturbances now.
CURWOOD: Yeah. So what are the climate impacts that have made perhaps the deepest impressions on you?
PIERCE: Certainly, for me, it's been the tornadoes that I've seen living in Mississippi. And we see tornadoes every year, we have tornado warnings regularly in the spring and fall especially. And, you know, the sirens go off, and everyone's in their bathtubs, because we don't have basements there because the, the water level is too high. So everyone just hunkers down in their bathtubs and hopes for the best. But that for me has had a huge impact. In 2011, that was when the tornado super outbreak occurred, if you remember that, that really decimated a lot of the Deep South. More than 300 people were killed that day, and thousands more were injured. And on that day, I happened to be traveling with my husband and our infant son -- I had just had my first son, he was four months old -- and we were driving. We knew the weather was supposed to be bad, but we didn't really have a sense of things exactly. And this was before we had smartphones, so we couldn't really check anything, we just had the radio on as we were driving. And we got to Cullman, Alabama, and saw that the sky looked really bad and really strange. And so we pulled over and went into a Days Inn. And soon as we got inside, some people came running in saying, it's out there, the tornado was coming. And so we all, me and my husband and our son, and the few people in the lobby, we all ran into the bathrooms because they were the most interior rooms off the lobby. And we all just kind of hunkered down there. And I just remember people screaming, and the power went out. And I mean, it was definitely the scariest single moment of my life, and we were all pretty sure we were going to die. And we didn't, obviously; and the tornado did not hit the Days Inn where we were, although it did hit Cullman, and several people were killed, and many more were injured. But we were very lucky. And that experience crystallized a lot of things for me about weather and climate, but also about being a parent, and being a parent who writes poems. And that experience became the catalyst for the book that I went on to write, which was called The Tornado Is the World and became sort of a lens through which I could explore parenthood, which was new for me, and which I didn't quite know how to write about yet. And so I did, I developed a series of personae in that book and used those and sort of created a narrative of people dealing with the aftermath of an EF4 tornado, which was what that tornado had been.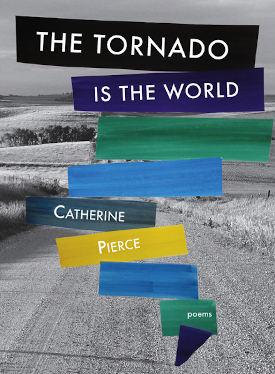 CURWOOD: So, why don't you read one of your tornado poems for us?
PIERCE: Sure. And this was the first poem that I wrote after that tornado experience. And so this is the one that is pretty autobiographical, at least in terms of what I was feeling in that moment. And in the book, the tornado takes on its own persona, because to me, it always feels like a tornado has agency. I always feel like it's making a decision about what it's doing, somehow. And so this poem addresses that. It's called The Mother Warns the Tornado.
I know I've already had more than I deserve. 
These lungs that rise and fall without effort,
the husband who sets free house lizards,
this red-doored ranch, my mother on the phone,
the fact that I can eat anything—gouda, popcorn,
massaman curry—without worry. Sometimes
I feel like I've been overlooked. Checks
and balances, and I wait for the tally to be evened.
But I am a greedy son of a bitch, and there
I know we are kin. Tornado, this is my child.
Tornado, I won't say I built him, but I am
his shelter. For months I buoyed him
in the ocean, on the highway; on crowded streets
I learned to walk with my elbows out.
And now he is here, and he is new, and he
is a small moon, an open face, a heart.
Tornado, I want more. Nothing is enough.
Nothing ever is. I will heed the warning
protocol, I will cover him with my body, I will
wait with mattress and flashlight,
but know this: If you come down here—
if you splinter your way through our pines,
if you suck the roof off this red-doored ranch,
if you reach out a smoky arm for my child—
I will turn hacksaw. I will turn grenade.
I will invent for you a throat and choke you.
I will find your stupid wicked whirling
head and cut it off. Do not test me.
If you come down here, I will teach you about
greed and hunger. I will slice you into palm-
sized gusts. Then I will feed you to yourself.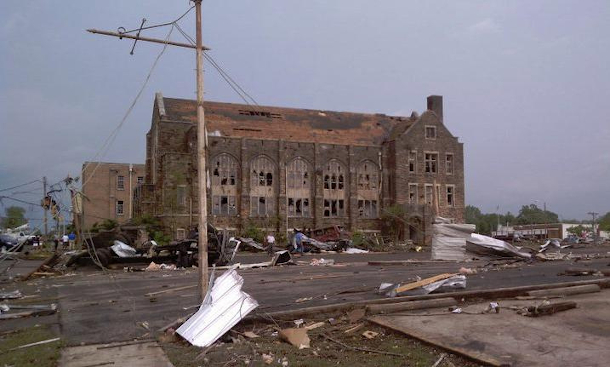 CURWOOD: How fair is it to say that the climate has given you PTSD?
PIERCE: Oh, very fair. [LAUGHS] I think that following the tornado experience, that was something that I hadn't realized that was what I was kind of working through in writing those poems. But it, but it was, and a lot of those poems deal very directly with that, with that feeling of not being able to see the world the way that you saw it prior to this event.
CURWOOD: And as a mother, how do your kids shape your writing about something that, well, it's in the process now of impacting their lives, and it'll be with them for a long, long time?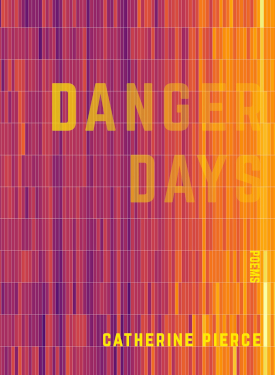 PIERCE: Absolutely. Well, so I, my book Danger Days came out in October of 2020. And that book deals a lot with climate crisis and a lot with parenting through climate crisis, and thinking about ways that I can try to, you know, hold these two ideas simultaneously. The idea of being afraid and angry and trying to take action on behalf of the planet; and genuinely celebrating and finding joy in all the marvels of our planet. And trying to impart that to my kids, trying to say, Yes, let's go out, and let's find these beautiful things. And look, there is a blue heron, and oh my gosh, let's find out what kind of flower this is. And so trying to kind of find that balance of not wanting to frighten my kids, but also wanting them to be informed, while still finding genuine joy in our amazing planet and all it has to offer.
CURWOOD: Catherine, there's another poem of yours that grapples with what some might even see as beauty in climate disruption. It's called Anthropocene Pastoral. Could you read that for us and set it up for us as well?
PIERCE: Absolutely. So this poem is called Anthropocene Pastoral, and I wrote it following the California superbloom of 2017, when the deserts in California were covered in just these gorgeous, gorgeous wildflowers, and people were flocking there to see them. And when I did some reading about this, I found that this was caused by, the region had had its worst dry spell in history. And then it was followed by twice the normal wintertime precipitation. And that led to this really beautiful event. And so I was thinking about that, as I was writing this poem about the ways that sometimes destruction can look like beauty, can be beauty in a way.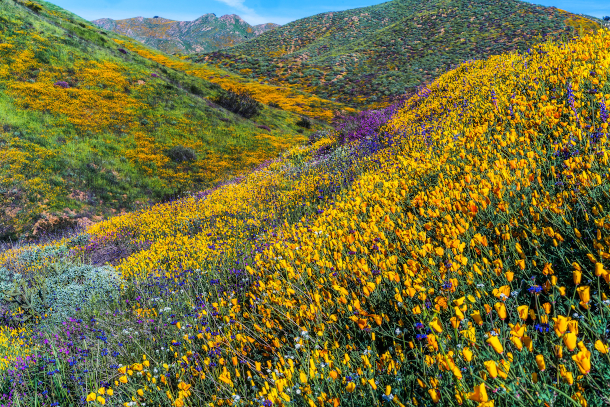 This is called Anthropocene Pastoral.
In the beginning, the ending was beautiful.
Early spring everywhere, the trees furred
pink and white, lawns the sharp green
that meant new. The sky so blue it looked
manufactured. Robins. We'd heard
the cherry blossoms wouldn't blossom
this year, but what was one epic blooming
when even the desert was an explosion
of verbena? When bobcats slinked through
primroses. When coyotes slept deep in orange
poppies. One New Year's Day we woke
to daffodils, wisteria, onion grass wafting
through the open windows. Near the end,
we were eyeletted. We were cottoned.
We were sundressed and barefoot. At least
it's starting gentle, we said. An absurd comfort,
we knew, a placebo. But we were built like that.
Built to say at least. Built to reach for the heat
of skin on skin even when we were already hot,
built to love the purpling desert in the twilight,
built to marvel over the pink bursting dogwoods,
to hold tight to every pleasure even as we
rocked together toward the graying, even as
we held each other, warmth to warmth,
and said sorry, I'm sorry, I'm so sorry while petals
sifted softly to the ground all around us.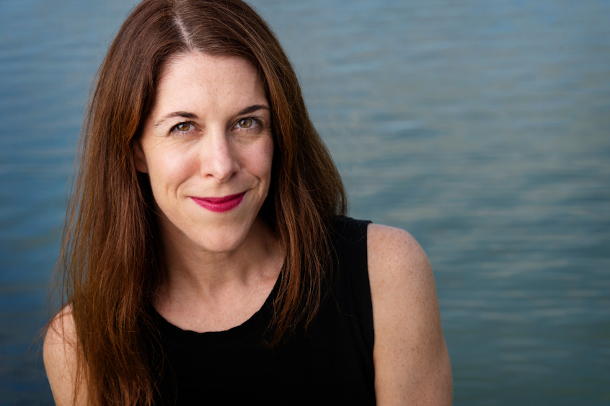 CURWOOD: Catherine, it sounds like you're in a way seeking permission to find beauty in, in what can happen during climate disruption to, quote, "hold tight to every pleasure." How do you think allowing ourselves to see this beauty in the midst of this emerging disaster is vital for our emotional resilience?
PIERCE: I think it's crucial for two reasons. One is, I mean, as you say, it's, it's vital for our emotional resilience, if we're not able to take joy and pleasure in these moments as we find them, how can we possibly be strong enough to do what we need to do? Which is, which is the other part of why it's necessary, we need to be able to recognize this beauty so that we can try to save it. Right, we need to feel spurred to action by our relationship with this planet and with everything that it offers us. We need art, we need beauty, we need poems, and walks in the woods and songs and essays, we need all these things, to allow us to feel the true pleasure that comes from paying attention to this world, which is just an absolutely remarkable place. But then we also need to feel strengthened by that into taking action, into trying to keep this amazing planet as something that our kids can explore with the same pleasure that we could, and that their kids hopefully can explore with the same kind of pleasure as well.
CURWOOD: Catherine Pierce is the author of Danger Days, The Tornado Is the World and other books of poems. Thanks so much for taking the time with us today.
PIERCE: Thank you so much for talking with me.
Links

Living on Earth wants to hear from you!
P.O. Box 990007
Prudential Station
Boston, MA, USA 02199
Telephone: 1-617-287-4121
E-mail: comments@loe.org
Donate to Living on Earth!
Living on Earth is an independent media program and relies entirely on contributions from listeners and institutions supporting public service. Please donate now to preserve an independent environmental voice.
NewsletterLiving on Earth offers a weekly delivery of the show's rundown to your mailbox. Sign up for our newsletter today!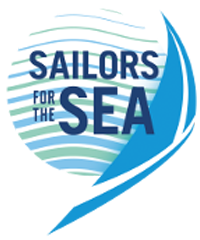 Sailors For The Sea: Be the change you want to sea.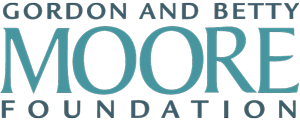 Creating positive outcomes for future generations.

Innovating to make the world a better, more sustainable place to live. Listen to the race to 9 billion

The Grantham Foundation for the Protection of the Environment: Committed to protecting and improving the health of the global environment.
Energy Foundation: Serving the public interest by helping to build a strong, clean energy economy.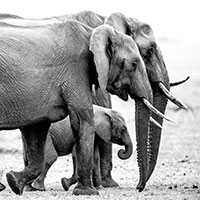 Contribute to Living on Earth and receive, as our gift to you, an archival print of one of Mark Seth Lender's extraordinary wildlife photographs. Follow the link to see Mark's current collection of photographs.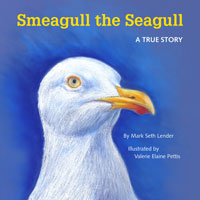 Buy a signed copy of Mark Seth Lender's book Smeagull the Seagull & support Living on Earth