Public Radio's Environmental News Magazine (follow us on Google News)
Backyard Tigers in America
Air Date: Week of May 22, 2020

stream/download this segment as an MP3 file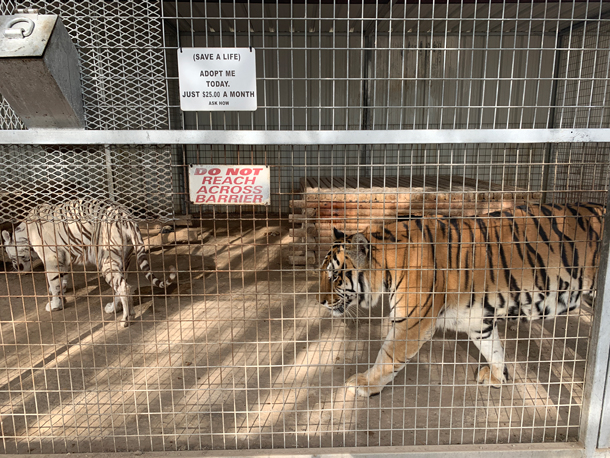 The US Fish and Wildlife Service estimates that more tigers live in America than remain in the wild. Most live in small cages like the one pictured. (Photo: Rachel Nuwer)
Private ownership of big cats is completely legal in several US states. In fact, experts estimate more tigers live in captivity in the United States than remain in the wild. Host Bobby Bascomb speaks with investigative journalist Rachel Nuwer, host of the podcast "Cat People", about the exotic predators living in roadside zoos and backyards.
Transcript
BASCOMB: It's Living on Earth, I'm Bobby Bascomb.
Tiger King is a Netflix documentary series about the infamous Tiger breeder Joe Exotic. The series has taken America by storm, with more than 34 million viewers within the first 10 days of its release. The show explores feuds between big cat owners and a murder for hire plot. The series is popular but it's also been widely criticized for its lack of objectivity setting big cat breeders and big cat sanctuaries on an equal plane. Still, the issue of private big cat ownership is very real. Investigative journalist Rachel Nuwer hosts Cat People, a limited series podcast that explores big cat ownership in the United States. She joins us now from Brooklyn, New York. Rachel, welcome to Living on Earth
NUWER: Thanks so much for having me.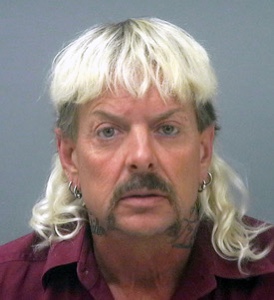 BASCOMB: So, Rachel, how many big cats are living in the United States right now, roughly?
NUWER: This is crazy. But we actually have no idea how many big cats are living here, you know, in backyards, truck stops, like even in people's like basements. But a few years ago, the Fish and Wildlife Service did estimate that there are more tigers in the US than there remain in the wild. And researchers think there's about 4,000 tigers remaining in the wild around the world. So yeah, there's probably more than 4,000 Tigers here in the country.
BASCOMB: Well, you have a great podcast called Cat People in which you profile a few people, a few big cat owners. Can you tell me about one of them? How did they decide to own a big cat, a tiger, a bobcat and you know what made them want to go down this road to begin with?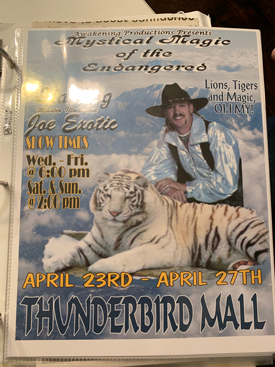 NUWER: Sure thing so I kind of think about big cat owners as falling into one of three categories. The first category is people who just really love these animals, like truly they love them. They often are interested in conserving the animals, they want to help the species. I met a woman, for example, named Deborah Pierce. She lives in South Carolina. And she just you know, since she was a little girl, she loved lions. And finally, she talked her husband into getting a baby lion cub. And then shortly after, she also got a baby mountain lion to keep the lion company. And, like, right from the beginning, things just went terribly wrong for Deb. You know, like there was a landslide that took out her cages that she had built for these animals. She realized that she had underestimated how much it costs to feed them. Like as they grew like they eventually ate over $5,000 of meat a year. Veterinary bills just like piled up. You know, we're talking over $10,000 a year on vet bills. Eventually, the stress contributed to Deb's husband leaving her and now she can't travel. She can't move. She can't really do anything. Like she's almost like in a cage of her own making because of these animals. But the thing about Deb is, you know, she was motivated because she loves the animals, she wanted to be near them. And people like her are also motivated by the desire to contribute to their conservation, they think, okay, these animals are endangered. So if I can have one, if I can make more, and keep them safe, I'm helping that the survival of the species.
BASCOMB: I mean, a lion in a cage in South Carolina isn't really serving its ecological purpose. So I mean, what use is it to the species as a whole if these animals are in a cage far away from their natural habitat?
NUWER: It's really not. I mean, it's not useful at all for conservation period. You know, I write a lot about poaching of wildlife in places like Southeast Asia and the exotic pet trade is just a booming market around the world. And once that, like lizard or whatever is snatched from the wild, it's dead ecologically speaking. It's not playing any more role in its habitat. It's not perpetuating the species, and the same goes for all these excess big cats in the US, you know, they're just over here in their little bubble not helping conservation whatsoever.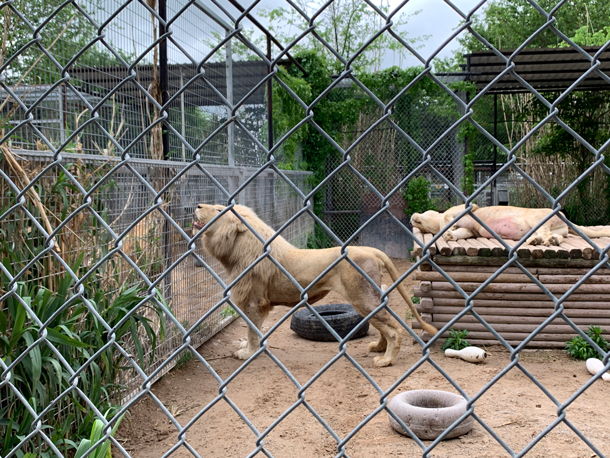 BASCOMB: Right. Well, that that makes perfect sense. You said there's three categories of people, what are the other two.
NUWER: So the other two are kind of, think of the kind of person who would go out and buy a Ferrari, to show off and to try to be special. It's people who want to stand out from their neighbors who want something to kind of affirm their uniqueness and their coolness and toughness in the world. People will start calling themselves you know, like, I'm the lion woman, or I'm the tiger man. And that's what they become known for. And it's just, it's a way to assert themselves in the world. The last category of people are really the breeders and dealers. These are the Joe Exotics of the world, the people who are in this business, for business, to make money.
BASCOMB: What about animal welfare? I mean, how are these animals usually kept? Are they treated humanely would you say in the whole?
NUWER: Definitely not, unfortunately. This industry is built upon cruelty. So the reason why there are so many pet tigers in the US is not necessarily because there's so many people who are dying to have a tiger. It's because of this cub petting phenomenon. You know, you go to these roadside zoos, you take a selfie with a tiger, you pay like 100 bucks for 10 minutes to cuddle the cub. And then you know, it's the next person's turn. So to produce all these cubs, you know, female tigers are just repeatedly speed bred. As soon as they have a litter of cubs, those cubs are taken away, often within you know, an hour of their birth and bottle fed. The cubs themselves have a terrible life. They often have ringworm, they're malnourished, sometimes they're drugged into submission, you know, so they won't be biting kids that are playing with them, or they're just completely exhausted from being passed around all day long. So there's definitely an element of animal cruelty in the industry.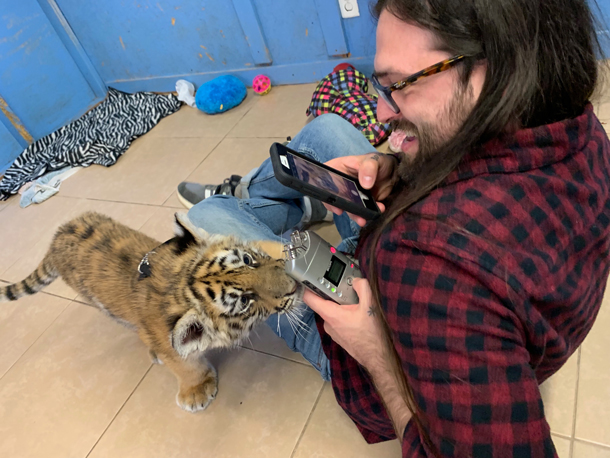 BASCOMB: What is the legality of owning these animals here?
NUWER: About two thirds of states have laws banning big cat ownership, then I think about a dozen have laws saying like, okay, well, you can have a big cat, you can have a tiger, whatever, under these certain conditions. And then there are four states that don't have any laws at all. So you can like get whatever you want. It might be harder to get a dog then a tiger.
BASCOMB: Wow, that is that's a crazy notion. And what are those four states? Where can anybody just go get a bobcat? A tiger, a lion, if you feel like it?
NUWER: Those four states are North Carolina, Wisconsin, Nevada and Oklahoma.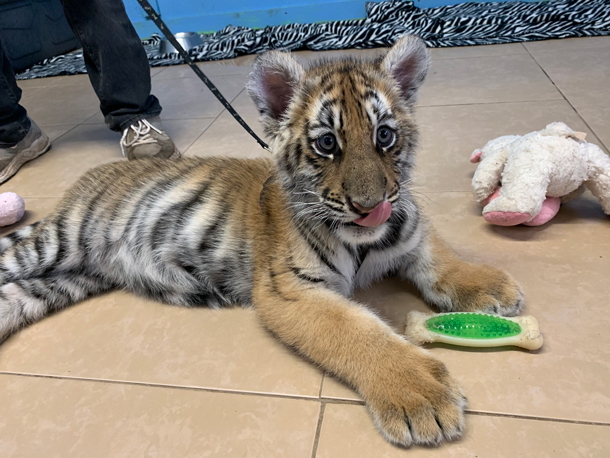 BASCOMB: Wow, so really all over the country then?
NUWER: Yeah, exactly. I mean, yeah, it's I don't know why you wouldn't have laws about this. I think people just haven't really thought about it in the past and it's more recently become sort of like a states rights issue and you know, like individual citizens rights issue, like "you can't take away my guns, you can't take away my tigers" kind of thing.
BASCOMB: Now, this is obviously a public safety concern. I want to play a clip from your podcast. This is a 911 call from Ohio.
911 OPERATOR: 911
KOPCHAK: Yeah, this is Ms. Kopchak on Kopchak road, and we live next to Terry Thompson, and there's a bear and a lion out.
911 OPERATOR: There's a bear and a lion out.
KOPCHAK: Yeah, right up behind us.
911 OPERATOR: What's your name?
KOPCHAK: Kopchak
911 OPERATOR: And it's behind your house?
KOPCHAK: Pardon me?
911 OPERATOR: Is it behind your house? Is it behind your house?
KOPCHAK: Yeah, it's up in and they're chasing Terry's horses.
911 OPERATOR: Okay, I'll send them over.
BASCOMB: So what's happening here.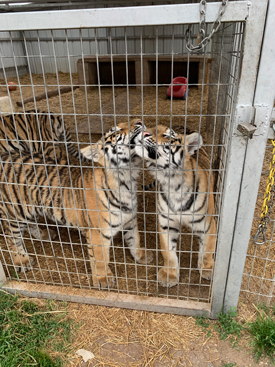 NUWER: So these are people that, you know, are seeing tigers running down the interstate and are worried and calling in for help. What happened there was this exotic animal owner there named Terry Thompson. And Terry had been arrested for some kind of gun charge. And he actually told the judge, you know, if you put me in jail, the moment I get out, I'm going to release all my animals and blow my brains out. And they're like, haha, whatever, Terry. They put Terry in jail. When Terry got out of jail, he did exactly that. He opened the doors to most of his big cats' cages, and then he committed suicide. And police officers had this situation where they had to then hunt down and kill 18 Tigers, 17 lions, and three mountain lions, plus a bunch of bears, wolves and baboons running around Ohio. So yeah, luckily no humans got hurt in that incident, but very easily someone could have gotten killed. I mean, Terry's place was near a school. It was near hotels. You can imagine.
BASCOMB: Yeah, for sure. That's obviously very, very dangerous.
NUWER: Yeah.
BASCOMB: Well, I mean, we are in the situation now though there's, you know, nobody really knows but thousands certainly of these big cats across the country and relatively unregulated people are getting in over their heads. It seems like a pretty big problem not many people have heard of. But at the end of the day, what should be done about it at this point, do you think?
NUWER: So? I think what we really need is federal oversight of this issue. You know, we just need a law like it is or it isn't legal to have these things. And luckily, there is a very strong, ongoing effort to get that into law. There's a bill right now, it's in the house and it's awaiting a vote, but it's called the Big Cat Public Safety Act. And what the Big Cat Public Safety Act would do is first of all, it would ban all public contact with big cat species. So that means no more cub petting. So that automatically would cause the industry to dry up because people wouldn't have any incentive to breed these big cats anymore because there would be no more cub petting. And it would also slowly phase out big cat ownership.
BASCOMB: And how likely do you think that is to pass?
NUWER: Surprisingly, I think there's a really good chance because, you know, it's not just like this tree hugger, animal lover issue. For a lot of Republican lawmakers it's a issue of public safety. So there's actually a national sheriff's organization that signed on to it. There's a former police officer who's really been champing it hard, and, you know, when he gets push back from policymakers, he visits in DC who say, you know, like, "Oh, well, I don't want to take away the rights of my constituents." He's like, "Oh, well, so you're not supporting police officers? You don't want to protect police officers?" And that usually gets a reaction. So it's really great. Because the bill does have bipartisan support, and I think it can pass.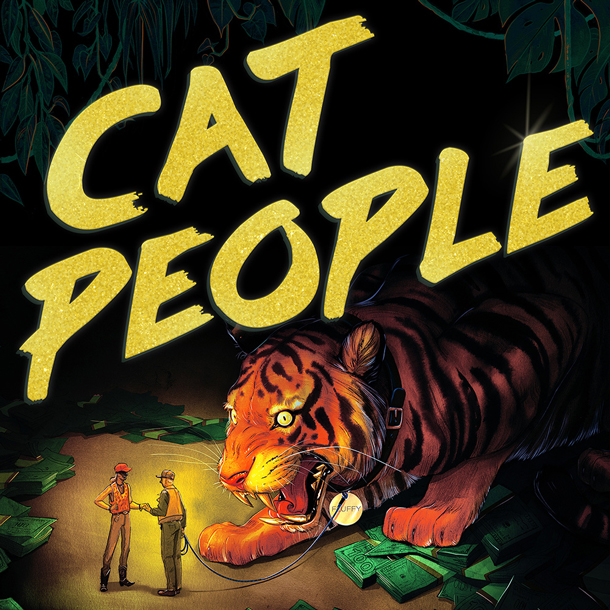 BASCOMB: Rachel Nuwer is an investigative journalist and host of the podcast, Cat People. Rachel, thank you so much for for sharing these stories with us.
NUWER: Thank you so much for having me and for your interest.
Living on Earth wants to hear from you!
P.O. Box 990007
Prudential Station
Boston, MA, USA 02199
Telephone: 1-617-287-4121
E-mail: comments@loe.org
Donate to Living on Earth!
Living on Earth is an independent media program and relies entirely on contributions from listeners and institutions supporting public service. Please donate now to preserve an independent environmental voice.
NewsletterLiving on Earth offers a weekly delivery of the show's rundown to your mailbox. Sign up for our newsletter today!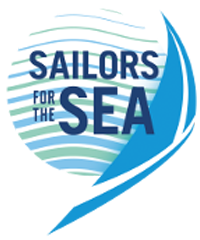 Sailors For The Sea: Be the change you want to sea.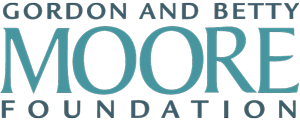 Creating positive outcomes for future generations.

Innovating to make the world a better, more sustainable place to live. Listen to the race to 9 billion

The Grantham Foundation for the Protection of the Environment: Committed to protecting and improving the health of the global environment.
Energy Foundation: Serving the public interest by helping to build a strong, clean energy economy.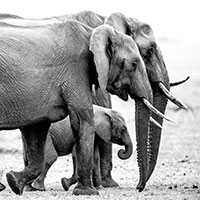 Contribute to Living on Earth and receive, as our gift to you, an archival print of one of Mark Seth Lender's extraordinary wildlife photographs. Follow the link to see Mark's current collection of photographs.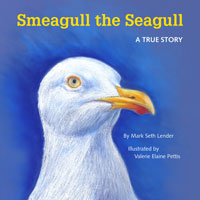 Buy a signed copy of Mark Seth Lender's book Smeagull the Seagull & support Living on Earth